We are working closely with four local MPs including Rt Hon Karen Bradley MP (Staffordshire Moorlands); Jack Brereton MP ((Stoke-on-Trent South), Jo Gideon MP (Stoke-on-Trent Central) and Jonathan Gullis MP (Stoke-on-Trent North), Stoke on Trent City Council, Staffordshire County Council and Network rail to undertake a stage 1 feasibility study (Re-Connecting Railway Fund).
The feasibility project is currently underway, following approval in Autumn statement (October 21) and the initial stage will be to assess strategic outline case for re-connecting railway between Leek (cornhill) and Stoke-on-Trent mainline. This will include the option for a freight link to Cauldon Lowe.
Subject to outcome of this (and second stage) studies, the objective would be to:
significantly reduce journey times between Leek and Stoke-on-Trent including onward locations;
support business productivity & recruitment;
support improved access to skills & training for rural residents
support development of sites in Stoke on Trent and Staffordshire Moorlands identified within the respective Local Plans
support sustainable tourism travel into Leek and beyond, though linkages with Churnet Valley Railway and access to the Peak District National Park
Assess options for freight, to remove quarry traffic from road network to help reduce congestion, improve air quality and support Aggregates sector supply
The aim of this initial study will be understand options, opportunities and potential costs and present these as a 'Strategic Outline Business case' to government by September 2022. If this is accepted, further funding would then be released to undertake more detailed work on design, costing and operational issues. This is just a first step to make the case for the re-opening of the line and there is no guarantee that subsequent stages or reinstatement will be progressed.
The MP for Staffordshire Moorlands is proposing to host a webinar in Spring 2022 to let local residents and businesses know more about the feasibility project. If you would like to share your views on the initial feasibility, please contact karen.bradley.mp@parliament.uk and regneration@staffsmoorlands.gov.uk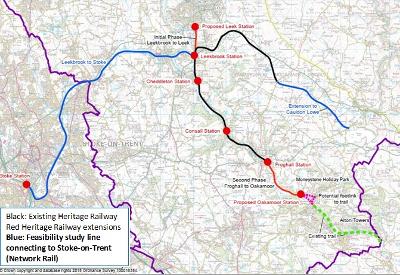 Funding: The Council has been awarded £50,000 of Restoring Your Railway Ideas fund and both Staffordshire Moorlands District Council and Stoke-on-Trent City Council have committed an additional £8,300 each to cover initial feasibility study.